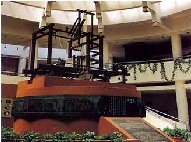 China Silk Museum:
Situated by West Lake, this national silk museum recaptures the 5,000-year-old Chinese history in silk-cocoon raising and silk production.

China Tea Museum:
The China Tea Museum in Longjinghua Township is a show window about the development of tea production in China. The visitor may join local tea farmers in picking tealeaves and sample the taste of newly harvested tea.

HuQingyu's Museum of Chinese Medicine:
This one and only museum of its kind is found in a complex of ancient buildings that house a key national legacy under protection – the Hu Qingyu Pharmacy. Visitors to the museum get a ringside view of how patent Chinese drugs are made. Traditional Chinese doctors are on call to provide advice for prospective buyers.

Northern-Song Porcelain-Making Kilns:
The kilns, established by the government of the Southern Song for massive production of porcelain ware for the exclusive use of the imperial palace, holds a major position in the world ceramics history. An in-situ museum has been built on the original site to illustrate the history of pottery industry in ancient China and the operation of the government-run porcelain-making kilns during the Southern Song.

Zhejiang Museum:
Built in 1929 on the southern side of the Gushan hill in the West Lake Scenic Zone, Zhejiang Museum turns out to be a drove of more than 100,000 cultural treasures.