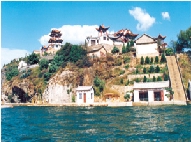 Erhai (literally, Ear Lake), just as its name implies, is similar in form of an ear. Two kilometers east of Dali, it is a fresh water lake, and in the middle of it, there are islets and sandbars. Covering 250 square kilometers, the blue, rippling lake and the snow-covered Mt. Cangshan add radiance and beauty to each other. The scene is, therefore, described as "Silver Cangshan and Jade Erhai".

Three main islands and several temples and villages along the lake's dry eastern shore are worth visiting. About an hour by boat from Xianguan is Golden Shuttle Island (Jinsuo Dao), with a small fishing community on the east side and a cave for exploring. On the shore, directly north of the island, is a rocky peninsula crowned by a pavilion and temple. Sacred Buddhist buildings, destroyed and rebuilt many times, have stood on this spot for nearly 1,500 years. Luoyuan Temple was badly damaged during the Culture Revolution but has been put back together and has great charm. Visitors can have their fortunes told by an old priest who guides them in shaking and selecting a single bamboo stick from a bundle of 100. The numbered stick corresponds to a specific fortune.

A tiny, picturesque temple island, Xiao Putuo Dao, dating from the 15th century, is devoted to Guanyin, the Goddess of Mercy. The outside walls have been restored with pointed caves is especially nice. On the shore nearby is the fishing village of Haiyin, whose boatmen are steeped in the lore of the lake. One of their specialties is night fishing for the huge 40-kilogram (88-pound) 'green fish'.