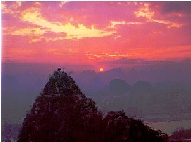 Located north of Guilin by the Li River, Diecai Hill rises abruptly with an elevation of 73 meters. The grotesque-looking rocks, with patterns suggesting a great pile of folded brocade, gave the hill its present name Folded Brocade Hill. Covering an area of 2 square kilometers, the hill consists of Yuyue Hill, Siwang Hill (Look-on-All-Direction Hill), Crane Peak and Bright Moon Peak.

Many charming scenes such as Diecai Pavilion, Diecai Archway, Windy Cave and Cloud-catching Pavilion scatter on the hill.

Diecai Pavilion, covering an area of 64sqm, is 5m high, 7.5m long and 8.5m wide with Yuyue Hill in the east, Siwang Hill west and Bright Moon Peak north. Dexterously designed and elaborately built, the pavilion is single-storied with four angles, red pillars and a flat top, which is harmonious with the surroundings.

With a horizontal board inscribed "Diecai Hill" hanging on it, Diecai Archway is a quite exquisite ancient building. A cave penetrating the Bright Moon Peak was named Windy Cave, which is roomy in both mouths and narrow in the middle. The cave is famous for 90 Buddha images of the Tang and Song dynasties, as well as dozens of ancient stone carvings inside. Located at the top of the Folded Brocade Hill, Cloud-catching Pavilion, which is round and single -eaved in shape with a pinnacle, commands a splendid view of scenery noted early in the Tang dynasty.