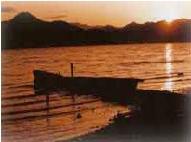 Dianchi Lake, which formed based upon a fault crossing the central Yunnan Plateau, is located at the foot of the Western Hills, southwest of Kunming. Occupying an area of 300 sqkm, the lake, 150km in circumference and 40km from north to south, is the sixth largest fresh water lake in China. Being a highland lake with an elevation of 1885 meters, the lake is also reputed as a "Pearl on the Yunnan-Guizhou Plateau."

The lake, capable of tossing up violent storms, is especially beautiful when the dawn or dusk comes. People describe the lake's moods as "virility seasoned with tenderness." High rectangular sails ribbed with bamboo battens float on the water and gently sway in the breeze. The shoreline of Dianchi Lake is dotted with small fishing hamlets surrounded by fertile fields.

Since the ancient times, Dianchi Lake has been a touring spot. Sailing on the lake, visitors can fully enjoy the beauty of the highland lake. In recent years, the water in Dianchi Lake has been severely polluted and the lake now is groaning for effective ecological and legal protection. Since the 1990s, the government has dealt with the pollution of the lake and people hope that in the near future, a clean Dianchi Lake would appear again.