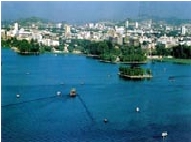 Located in the northern part of the Old City district, this lake has a surface area of 46.5 hectares, which is roughly one quarter of the districtís total area. It is one of Jinanís three major tourist spots.

The pavilions, kiosks, terraces, halls and temples that dot the shore or the surrounding hills have all been repaired and repainted. A childrenís playground, a roller-skating rink and flower house have been constructed and facilities for boating have been installed.

Furthermore, the waters of the Five-Dragon Pool have been diverted to this place to form an artificial spring, whose flow turns into a beautiful cascade on the west bank. The shores are fringed with weeping willow and over 100 mu (about 16 acres) of the lake have been planted to white lotus, restoring the traditional scene of "lotus on four sides and willows on three".