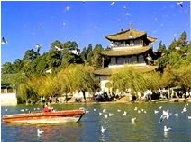 Daguan Park, located 7 kilometers west of Kunming, is known for its longest antithetical couplet in China. First built in 1682 by a monk, the park once served as a Guanyin (Avalokistesvaraís) Temple. In 1690, large-scale construction was carried out with flowers, trees, ponds, causeways, pavilions and halls added to it.

The park provides a spectacular view across sparkling Dianchi Lake to the distant Western Hills. Among the ancient architectures in this park, the three-storey Daguan Pavilion, which is decorated with flying eaves and splendid paintings, is the highlight of Daguan Park.

On the pavilionís lakeside facade hang two 5-meter-long tablets on which a couplet was written by Sun Ranweng, a famous poet of the Qing dynasty. Consisting of 180 Chinese characters, this couplet is reputed as the longest couplet throughout China. The upper scroll depicts the beautiful scenery of Kunming, while the lower scroll contains the authorís comments on some important historical events in Yunnan. Personal feelings and beautiful sceneries mix together in this couplet, adding more charm to this park. Standing on the pavilion, people could have an overview of the park and the sceneries nearby.

On every Mid-Autumn Festival (Moon Cake Festival), as custom, Kunming locals normally go to Daguan Park to enjoy flowers and the full moon. Deeply immersed in thick moonlight, the park looks more enchanting than ever.