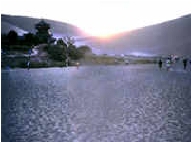 The lake is 6 kilometers (3.73 miles) south of the center of Dunhuang nearby the Echoing-Sand Mountain, where the oasis meets the desert. Spring water trickles up into a depression between huge sand dunes, forming a crescent-shaped pond (not to be confused with the concrete storage pool nearby).

The climb to the top of the dunes is sweaty work, but the dramatic view back across the rolling desert sands towards the oasis makes the effort worthwhile.

Out here the recreational activities include the predictable camel rides, the more novel "dune surfing" (sand sliding) and paragliding (jumping off the top of high dunes with a chute on your back). There is also a tow-gliding operation closer to the entry gate: continue past it if you want to jump off a dune.