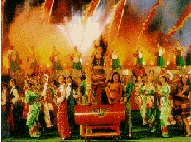 Situated by the picturesque Shenzhen Bay and adjacent to "Splendid China", the village covers an area of 200,000 square meters.

It is the first of its kind ever built in China, including the life-sized village models of 24 ethnic groups, made after the original buildings. The village attempt to reflect the folk customs and the culture of China's nationalities.

A stone forest of Yunnan, a forest of coconut palms of Hainan, towering age-old banyans from Nonbin, a high statue of the Thousand-handed and Thousand-eyed Guanyin (or the Goddess of Mercy), memorial stone archways of Huizhou, laser folk music fountains can be found in China Folk Culture Village.

To enlighten the scenery, undulating hills, roaring waterfalls, winding streams and racing boats assemble. Held each month is a folk festive celebration, grand, romantic, rejoicing and auspicious.

Visitors can expect programs like watching as
well as taking part in the ethnic singing and dancing, making handicrafts, tasting local delicacies with typical ethnic flavors, participating in the ethnic festive carnivals and watching the grandiose parade.

China Folk Culture Village group the cultures and architectural forms of the 56 nationalities in China.