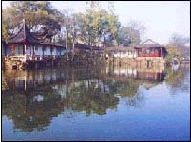 Canglang Pavilion, located south of Suzhou city, is the oldest garden among the existing classical gardens of Suzhou as well as one of the four most famous gardens in the city (the others are: Lion Grove, Humble Administratorís Garden and Garden for Lingering In). The garden used to be a private garden of a prince of the Five dynasties (907-960). During the Northern Song dynasty, the scholar Su Zimei built a pavilion in this garden and named it Canglang Pavilion. The garden has been rebuilt for many times and the most of the present garden buildings, simple and plain, date from the Qing dynasty.

Covering an area of 10,656 sqm, the garden, carefully arranged around the mountains and connected by a long roofed walkway, features a range of man-made mountains inside the garden and waterscapes outside. Proceeding past the pure expanse of water over a zigzag bridge of stone and through the entrance, one comes to the garden and catches sight of man-made mountain covered with age-old trees and bamboo, running from east to west.

Canglang Pavilion, in the shape of a square, stands at the top of the mountain with a parallel couplet from a Song poets on its stone pillars reading: "The refreshing breeze and the bright moon are priceless, the nearby water and the distant mountains strike a sentimental note." A double- corridor built by the canal lies to the north of the garden, unifying waterscapes outside the garden and "mountain scenery" inside in one breath.

Enlightened Way Hall (Mingdao Hall), located to the south of the mountains, is the major building of the garden. It was said to have been a site for delivery of lectures during the Ming dynasty. Surrounded by verdant trees, it appears simple but dignified.

Except its mountains and water, the garden is also famous for its unique latticed windows. Thereíre about 108 kinds of latticed windows with impressive designs, possessing extremely high artistic value. They, uniquely designed and elaborately made, enjoy high reputation among all the gardens in Suzhou.