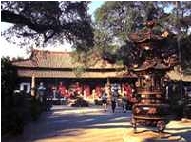 Bright Filial Piety Temple on Guangxiao Road is one of the oldest Buddhist temples in Guangzhou and was the mansion of Prince Zhao Jiande of the Nanyue Kingdom during the Western Han dynasty (206 B.C.-A.D.24).

Bright Filial Piety Temple was first built by an Indian monk during the Eastern Jin dynasty (317- 420) and the present temple, occupying an area of 31000 square meters, was rebuilt it the Qing dynasty (1644 - 1911). It enjoys great reputation in Buddhist history because Huineng of the Zen Buddhist sect was a novice monk here in the 7th century.

The Sixth Ancestor Hall in the temple was built in memory of Huineng, the sixth master of the Zen Sect of Buddhism, who was also the most influential monk in the history of Chinese Buddhism.

In the temple there is also a pagoda where Huineng's hair was buried. Other ancient structures in the temple include Sakyamuni Hall, Samgharama Hall, the King of Heaven Hall, and two iron towers.