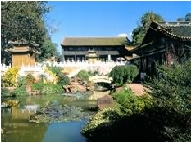 Black Dragon Pool is situated at the foot of Longquan Hill in the northern outskirts of Kunming, 17 kilometers from the downtown area. Surrounded by towering old trees and bamboo groves, the pool has never got dry even in the years of drought.

Legend goes that there used to be ten violently destructive dragons doing wrong in the world. About 750 A.D., Lu Dongbin, a famous Taoist priest in the Tang dynasty, suppressed nine dragons and left the tenth, a black dragon, remained in the pool. Hence the name Black Dragon Pool.

Came into being in 1394, Black Dragon Pool is divided into two parts by a stone bridge. The color of the water in the south pool is green and the north yellow. Although the water of these two parts meets each other, fish in one pool never visits the other one.

There are two Taoist temples in Black Dragon Pool, the lower one is Black Dragon Palace and the upper Longquan Temple. The Black Dragon Palace was first built in 1394 during the Ming dynasty. Enshrined in the temple are the Dragon King, god and goddess of thunder, god of rain and god of wind. Built in a two-courtyard structure, it provides a quiet and comfort place for relaxation.

Longquan Temple is a restored Ming dynasty temple, which used to be the largest Daoist (Taoist) center in southwest China. The temple, perched on a hillside overlooking the pool, is built on three levels. The first contains many famous ancient trees in its courtyards, in which a Tang dynasty plum tree, over 1000 years old, is the most famous one. The second level building now serves as an art gallery and the top level is a restored temple building. Main buildings in Longquan Temple include Thunder-Lightning-Deity Hall, the Hall of the North Pole, Sanqing Hall, the Hall of the Jade Emperor and some other halls for worshipping Daoist immortals.

Besides, the Black Dragon Pool owns the greatest plum garden in China, in which over 87 kinds of plums were planted.