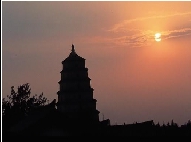 The Big Wild Goose Pagoda, located in Ci'en Temple, is about 4 kilometers south of Xian City. In 648 AD Tang emperor Gao Zong (Li Zhi), then still a crown prince, had it built to memorize his mother. The Temple then obtained its name Da Ci'en Temple, meaning the Thanksgiving Temple. According to the records, the temple, with more than 10 courtyards, contained 1,897 marvelous chambers altogether.

Taken Chenwei as his popular name, Monk Xuanzang was a very famous Buddhist Master and the founder of Faxiang sect of Buddhism. He went to India to research the Buddhist doctrines in 629 AD (the 3rd year of Zhenguan period), and then he came back in 645 AD with 657 volumes of Buddhist scriptures. In the temple, he translated 74 volumes in 1,335 chapters of the Buddhist scriptures into Chinese. He was the best one of the four famous translators of Buddhist scriptures, because his translations were the largest in quantity, the best in quality and the greatest in influence. In praise of the Master's dedication to Buddhism, Tang Emperor Tai Zong wrote "An Introduction to the Sacred Teachings of Monk Tripitaka of the Great Tang Dynasty". When this temple was completed, Tang Emperor Xuanzong invited the Monk to be the headmaster immediately. In order to protect the Buddhist Scriptures, Monk Xuanzang asked for a pagoda to be built. He designed the pagoda like a wild goose as he saw in India. So this pagoda was called the Wild Goose Pagoda in memory of the famous Monk. It was a five-storeyed pagoda when it was first built. It was added to 10 storeys in 701 AD (during the years of Wu Zetian's regin in Chang'an) when it was rebuilt, with a wooden stairs leading to the top inside. Nobody knew the reason (no record) why the pagoda became 7 storeys until today.

The Tablet of "Sacred Teachings of Monk Tripitaka of the Great Tang Dynasty", prefaced by Tang Emperor Tai Zong himself and carved by Zhu Shuiliang, a famous calligrapher, still can be seen inside the pagoda. There have been over ten earthquakes over 7 degree in the past 1300 years since Tang Dynasty in Guanzhong Plain. But now, the Big Wild Goose Pagoda is still standing there firmly after so many earthquakes. It shows the ancient people's wisdom and talent in architecture.