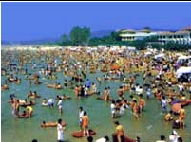 This resort is located fifteen kilometers southwest of Qinhuangdao. It faces Bohai to the south and has the Lianfeng Hills, with their forests of pine and cypress, as a backdrop. The beach is two kilometers wide and extends for ten kilometers from Daihekou in the west to Eagle Rock in the east. With its beautiful winding coastline and its pleasant, moderate climate, Beidaihe Beach is a popular spot for summer vacations.
The area is dotted with buildings and villas, some along the beach and others hidden in groves. The main attractions are South Heavenly Gate (Nantianmen), Cave Leading to the Sky (Tongtiandong), Camel Rock (Luotuosi), Tiger Rock (Laohusi), Guanyin Monastery, and Lotus Park.
Since national liberation of 1949, roads in downtown districts and a beachside highway have been built or repaired. Sanatoriums embracing an area of 3,160,000 square meters have been built and five beachside parks restored.