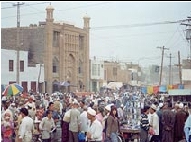 "I think everyone should see the Sunday Market in Kashi (Kashgar) at least once. I arrived there in the early morning while it was still dark. More and more horses, donkeys and sheep gradually entered the market, followed by farmers and herdsmen selling carriages, furniture and fruits. The growing procession and rising noise and excitement stirred something within me."

Owing to its favorable position, countless merchants from many parts of the world went to Kashgar. So it was also called as "the pearl on the Ancient Silk Road". Bazaars are the focus of activity nearly on all days. With the stalls dotted here and there, the streets are crowded. Among the bazaars, some are comprehensive ones, and some are specialized markets selling local produce, arts and crafts, garments, knives, timber, coal or animals. Kashgar is famous for its delicate knives sold in the streets and by hawkers in the streets. It is also a hat-making center and certain sections of streets are devoted entirely to the selling of hat and beautiful fur-lined headgear. Blacksmiths' shop
line up on each side of the streets, and the sound from them can be heard in the streets. Colorful painted wooden saddles is on sale, and you can pick your dinner from a choice line-up of goats' heads and hoofs.

The west part of the bazaar is devoted mainly to Uigur and Kyrgyz, while the east is household goods and hardware. Today, although most of the bazaar have disappeared, but we can still find the past glory of this ancient city in the residual bazaar.