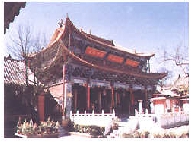 On the wooded slopes of Yu'an Hill, about 12 km northwest of Kunming, stands Bamboo Temple, which is the first temple built after Zen Buddhist had been introduced to Yunnan early in 1279.

Legend goes that two princes of Nanzhao Kingdom under the reign of Tang dynasty went hunting in the hills outside Kunming in the year 638. A magic rhinoceros led them deep into a forest where they met a group of silver-haired and ruddy-complexioned monks carrying staves of bamboo. When they were sill in amazement, these monks vanished in a purple cloud, only leaving their walking sticks planted in the ground. These bamboos promptly sprouted leaves and quickly became a bamboo forest. In order to honor the supernatural encounter, the devout brothers built a Buddhist temple here and named it Bamboo Temple.

According to historic record, the temple was first built around 1280 during the reign of Kublai Khan (the first emperor of the Yuan dynasty). It was said that before the Song dynasty, a religious sect of Buddhism, similar to Lamaism in Tibet, was commonly adopted. At the turn of the Song and Yuan dynasties, a famous monk who had studied Buddhism for about 25 years in Central Plains of China preached Buddhism at the Bamboo Temple. With time passing by, the temple became more and more famous in Yunnan as the first Buddhist temple in which Buddhism from the interior of China was introduced.

Burned down and renovated in the 15th century, it was restored from 1883 to 1890. Elaborately designed, the temple is harmonious with the surroundings. It consists of five parts, including Tianwang (Heaven King) Temple, Fanyin Pavilion, Tiantailai Pavilion, Daxiong Temple and Huayan Pavilion.

The highlight of this temple lies in the 500 life-size statues of luohan. These statues were seven years' artistic creations of a famous sculptor, Li Guangxiu from Sichuan and his five apprentices. Before this great task, they had plunged themselves deep into the thick of life to study the images and mental attitude of various people. Distinctive in respective facial expressions and postures, these vivid sculptures were reputed as "a pearl in the treasure house of oriental sculpture". Popular belief claims that, by beginning with any statue and counting down the row to your right as far as the number of your age, you will find a luohan that best exemplifies your inner self.

In the temple there are also many valuable inscriptions and couplets on tablets and pillars, providing information of the history, geography and culture in the 13th and 14th. Now, this temple attracts countless visitors each year.