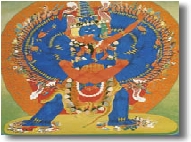 Known as Lijiang Mural or Baisha Mural, these frescos, distributed in the temples of such towns as Baisha, Dayan, Shuhe, Zhonghai, Yangxi and Xuesong, were made in succession from the early Ming dynasty to the reign of Emperor Qianlong in the Qing dynasty.

Due to the prosperous economy in the Ming dynasty, people of Naxi minority began to assimilate the culture of other ethnic groups and developed their own. Lijiang mural is the crystallization of such efforts.

According to the survey of He Zairui, a Naxi artist, the six mural paintings stored in the Dajue Palace of Shuhe are a reflection of both Taoism and Buddhism. Produced by a painter of Han nationality, the paintings vividly show the variety of characters. The frescos of Dabaoji Palace in Baisha are regarded as the centerpiece of Lijiang Mural. On twelve well-preserved paintings are statues from Taoism, Buddhism, and the Mi Sect of Lamaism. One of the frescos is a great painting of 100 icons, in the middle of which is Sakyamuni, on both sides the statues from Taoism and Buddhism, and at the bottom three Vajras from the Mi Sect along with four celestial kings. The fresco is a collaboration of artists from Han and Tibet nationalities and entirely presents superb artistic skills with flowing lines, well-defined colors and good effects of depth and solidity. The mural paintings of Dading Hall in Baisha were originally finished in the end of the Ming dynasty and repaired during the reign of Qianlong Emperor of the Qing dynasty. Each is an embodiment of Statues from Taoism, Buddhism and such religious sects as Zen and Mi. Different form those in Dabaoji Palace in proportion, design, color-harmonizing and change, the frescos, mainly produced by Naxi painters, are not a match of previously-made mural paintings. What to be treasured in the Lijiang Mural is the realistic style employed by the artists of Han, Tibet and Naxi, who took subject matters from daily life instead of concentrating on religion. The frescos vividly reproduce the scenes of daily life such as dancing, weaving, fishing, felling trees, killing pigs and etc. The mural paintings also draw statues of officers, criminals, travelers and so on, who are the miniature of the social life. Besides, such subject matters as running horses, peacocks spreading feathers and blooming flowers of lotus, peony, camellia and plum blossom are all vivid and true to life.