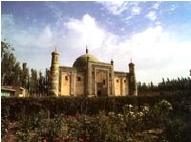 Located 5 kilometers (3.1 miles) northeast of the city of Kashgar, it served as the family tomb of Abakh Khoja, the powerful ruler of Kashgar in the 17th century who was revered as a prophet and second only to Mohammed. First built in 1640, all five generations of the family are buried within. There were 72 tombs until an earthquake destroyed some. The first generation buried here was Yusuf Hoja, a celebrated Islam missionary. After he died, his eldest son Apak Hoja died in 1693, buried here and his reputation was greater than his father's, so the tomb was renamed "Abakh Khoja Tomb".

The different buildings include Tomb Hall, Doctrine-Teaching Hall and Great Hall of Prayer. The Tomb Hall, with a 17-meter- (55.8-foot) diameter dome is covered with glazed green tiles. Inside the hall, tombs decorated with beautiful flower patterns on a white background, glittering, simple and elegant are settled on a high terrace. The legend goes that among those, a tomb known as the Xiang Fei (Fragrant Concubine) Tomb is in memory of Abakh Khoja's grand-daughter, Iparhan. She was the Fragrant Concubine of Emperor Qianlong of the Qing period and was called Xiangfei because of the delicate fragrance sent forth by her body. Upon her death 120 people
spent three years carrying her coffin back to Kashgar and buried here.

The Great Hall of Prayer in the west part of the tomb (Ayitijiayi) is the place where the Muslim believers conduct service on big days. The Lesser Hall of Prayer and the gate tower are outmost buildings decorated with colorful paintings and elegant brick carvings.

It is the holiest place in Xinjiang and an architectural treasure. During the Korban Festival, many Muslims form all over Xinjiang make the pilgrimage to the tomb. The tomb, about 3 kilometers east of the city, is easily accessible by horse cart or bicycle.